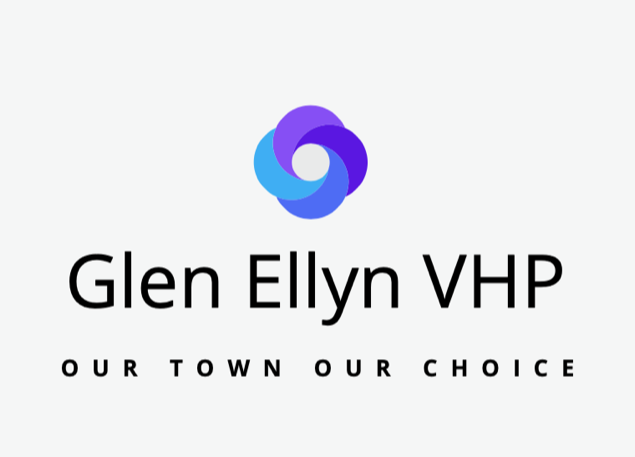 Glen Ellyn VHP Mission
Glen Ellyn-VHP is a citizen-journalist and advocacy organization that aims to preserve local control over Wireline and Wireless Broadband Infrastructure. We have successfully educated and lobbied at the Federal, State and Local levels to Tame the Densified 4G/5G So-Called "small" Wireless Telecommunications Facilities (sWTFs) Agenda.
We are working to promote the most energy-efficient and effective broadband options in Glen Ellyn by involving our community and participating in good ol' democracy (i.e. we are showing up). Via Facebook and our web pages, we share information and resources, so residents can stay up-to-date on the most current options for rational, science-based pulsed, data-modulated, Radio-frequency Electromagnetic Microwave Radiation (RF-EMR) levels to get . . .
Wireline Broadband for BIG DATA — Internet, streaming, and gaming, i.e. information services
Enough Wireless for reliable

small data

— wireless phone calls, i.e. telecommunications services
Problems With So-Called "small" Wireless Telecommunications Facilities (sWTFs)
sWTFs are falsely branded. They are 25 million times more powerful than Macro Cell Towers, once you consider the metric that matters — the intensities of the toxic pollutant (RF/MW radiation) that reaches second- and third-story bedrooms:
What Really Matters: Excessive
Effective Radiated Power (ERP)


That Results in RF Microwave Radiation Intensities in 2nd-Story+ Bedrooms
Cell Tower
Vertical Distance Off Ground
Horizontal Distance Away
Power in bedroom
(2nd-story+)
small cell
35 feet
60 feet
50,000 avg. radiation units
Macro cell
200 feet
2,500 feet
0.002 avg. radiation units
Conclusion: 50,000 µW/m² from a so-called "small" cell is 25 million times more powerful than 0.002 µW/m² (-85 dBm) from a Macro cell —
Note: -85 dBm is a signal strength which provides 5 Bars of telecommunications service on a cell phone (source: link to The Truth About 4G/5G in Sacramento )

---
sWTFs of any G create significant safety, privacy and property value harms, when they are installed in residential zones
The construction of a sWTF of any G on a corner may reduce property values for the nearest 24 homes by 20 percent or more because no one — and I mean no one — wants to live next to a cell phone tower
Pulsed, data-modulated, Radio-frequency Electromagnetic Microwave Radiation (RF-EMR) causes significant harm to humans, pets, pollinating insects and other fauna and flora.
Studies of RF-EMR at exposure intensities far less than the FCC guideline have shown significant increases of neurological and DNA damage, sleep disturbances, infertility, lower birth rates, and eventually cancer. According to the American Academy of Pediatrics, children "are disproportionately impacted by all environmental exposures, including cell phone radiation."
Why This Matters
The Densified 4G/5G Grid is laying the groundwork for the "Internet of Things" (IoT) and the Internet of Bodies (IoB) which will dramatically reduce privacy and substantially increase surveillance and cybersecurity harms. The densification of these so-called "small" in dimensions — but hugely high in power — WTFs are completely unnecessary. The Densified 4G/5G Grid problems include, but are not limited to the following:
Neither the FCC nor private wireless companies have the authority to dictate the terms of placement, construction and operations of hundreds of so-called "small" Wireless Telecommunications Facilities (sWTFs) in counties cities, towns and villages.
Tens of thousands of independently-funded, peer-reviewed scientific studies have concluded that RF Microwave radiation causes harm to humans, fauna and flora. None of these studies represent the increased exposure and density of 5G.
sWTFs remove our privacy. All private information will be accessible and for sale.
sWTFs towers will lower property value by 20% or more.
Cell towers (of all sizes and of Any G) are not covered by insurance companies under general liability or umbrella policies for injury, illness or death from pulsed, data-modulated, Radio-frequency Electromagnetic Microwave Radiation (RF-EMR) exposures. RF-EMR is excluded is treated as an environmental pollutant and is excluded from coverage, transferring the liability to the taxpayers (think the next asbestos).
Planned Action Items
Planning and coordinating activities to raise public awareness throughout our community and in neighboring communities.
Engagement with government officials at ALL levels of government through emails, phone calls, private meetings, and Town Halls.
Promotion of transparent decision-making at the local, state and federal levels regarding wireline broadband and wireless telecommunications infrastructure, while holding both government and industry accountable to the public.